Your Worries
Most clients have certain worries when it comes to hiring a new cleaner. You may wonder if it is safe to let a new person in your home, you may worry of you can grant the cleaner with a set of keys for your place, as well as if it is safe to leave a cleaner in your home whilst you are at work. Or maybe the costs involved in hiring a cleaner troubles you.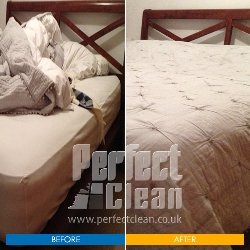 view image
Your worries should stop right here. Hiring a cleaner through a company has it benefits and offers you the extra reassurances that you need. We undertake rigorous checks to make sure that all personnel have the right to live and work in the country. We take reference from at least 2 previous employers. They are both trustworthy and highly reliable. All new comers, no matter what their cleaning experience is, are enrolled on our training programme, as we want to ensure that their standard of cleaning meets our high expectations. We promise you will be highly impressed with the quality of services of our cleaners. Our main objective is to make your life easier. After all, you may be pressed for time and sometimes you may not be able to keep your home as clean as you may like. This is where our housekeeping services step in and our cleaners will reach your expectations.
If you worries a more financially oriented-ask yourself this: How much your time is worth? Would you rather not spent extra time with friends and family and leave the boring tasks like cleaning to the professionals?
All of our cleaners follow a standard task list however we are happy to follow your recommendations as well.
Our Goal
Our purpose is to maintain the quality of services and keep up the clients' satisfaction. There is just no room for any mistakes here as one bad feedback can mar the reputation of years for a cleaning London services. Therefore, getting feedback from the customers is of utmost importance. The highly-skilled operatives carry on their tasks as per the requirements of the customer
Cleaning is no longer looked upon as a luxury, but modern life necessity. Living in a clean and healthy environment not only lifts our mood but also adds positivism to the atmosphere. Generally speaking, you may be able to keep your home tidy, however do you really want to spend your spare time with polishing the floor or doing the dishes? Won't you rather have a rest, read a book, or simply catch up with your friends and family?
Our service is designed to meet every Londoner needs. No matter whether you live in a studio flat or a five bedroom house, we are sure that we will have the right service for you.
Benefits
Outstanding Customer service
Personal Account Manager for every client
No Joining Fee
No Minimum contract
Competitive Prices
Fully Insured
Weekly and Fortnightly Service
Quarterly Supervised Checks
Service is available 7 days a week
Same cleaner every week
Holiday Replacement Cleaner
Ironing Service included
Free meeting with your cleaner prior to start date

Our Packages
We offer four different packages:
| | Club Member | Frequency | Price | Per Hour |
| --- | --- | --- | --- | --- |
| | Pay as you Go | Any | | £22 |
| | Bronze | Fortnightly | £30* | from £11 |
| | Silver | Once a week | £40* | from £ 11 |
| | Gold | Two times a week | £55* | from £11 |
| | Platinum | Three times a week | £80* | from £11 |
* VAT Inclusive
Our Location
Perfect Cleaning Limited
Suite 5, 15 The Broadway
Woodford Green
London, IG8 0HL
T: 020-7100-5545
F: 0207-0999-819
E: info@perfectclean.co.uk
Opening Times
Monday - Friday 8:00 - 17:30
Saturday - Closed
Sunday - Closed
Coverage Finder
Photo Gallery